True confession: Thanksgiving came and went, and I wasn't thankful.
It's not that I forgot. You can't be on Facebook—where everycousin and their mother, except for you, is participating in that 30 Days of Thanks thing—You can't be there and not remember thankfulness.
It was just that I couldn't be bothered.
I tried counting my blessings, once or twice, or half a dozen times last month, but I just got so caught up in all the other things I had to do. For example, this would be me, on any given day in November:
Lord, thank you that, in a world where so many people are sick and suffering, I have good health. Thank You that, in a world where so many people live in miserable marriages, I have a husband who really loves me. Thank you that my kids cream together half a cup of butter, 2 cups of sugar, 2 eggs. Beat well until light and fluffy, and lemon-colored….
And I'd realize I'd done it again. This is how I pray, people. This is what God has to put up with from me.
(And you too, probably. Right? Right???)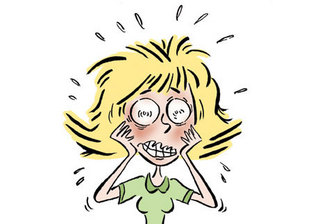 So November passed. I couldn't take time to be thankful, because I was too busy planning, shopping, pre-cooking, and cooking for a Great Meal that took approximately 21 minutes for 13 of us to consume. (Then, I ate all the leftovers for an entire Long Weekend, and gained 5 pounds. So: lose, lose, lose, lose, lose. On every front, lose. Except on the scale.)
I didn't do any of the other "November activities" you're supposed to do either. I didn't (to the male members of my family's vast relief) do No-Shave November. I didn't, as a professional writer, participate in National Novel Writing Month. (In fact, NaNoWriMo, I'll wave this in your face: I didn't even write 50,000 words in November. I might not have written 10,000. So sue me.) Also, I DID vote this year in November, but just barely. Two years ago, I didn't. I had a good reason. It involved waiting around in a 500-yard-long line in sub-freezing temperatures in my hospital scrubs after a shift In Which My Employer Made No Other Provision for Their Employees to Vote…and simply timing out. The polls closed on my freezing rear end, and I went home and told my family I'd voted. I don't know, I guess I wanted to set a good example for my children. (And I sincerely hope my husband never reads this blog post because… Honey, it's time for me to confess that I didn't, last time)
Well… let November be a lesson to me, because today is December 1st, otherwise known as The Beginning of Advent.
According to Dictionary.com, Advent is the first season of the Christian church year, leading up to Christmas and including the four preceding Sundays. (I guess that technically makes yesterday the beginning.)
Wikipedia is a bit more subjective. It has this to say: Advent is a season observed in many Western Christian churches as a time of expectant waiting and preparation for the celebration of the Nativity of Jesus at Christmas. The term is an angicized version of the Latin word adventus, meaning "coming".
Expectant waiting and preparation. See, this was my problem with Thanksgiving. I was so busy expecting and preparing, that I forgot to just…hang out and be. To think about the reason behind the busy-ness. And now, as Christmas looms, I'm faced with it again.
Today is December 1st and I have done exactly no Christmas shopping. I have not even sent out invitations to our Christmas party, which is happening fewer than 10 days from now. It would serve me right if no one showed up. There are 2 pounds of butter softening on my counter right now, in the vague hope that, by tonight, I will be able to cross off my list, "Bake Some Christmas Cookies."
Cook something, anyway. I hope. Maybe.
I forsee another month like the last. When the crazy pace obliterates my remembrance of the reason we celebrate this season anyway. When I forget that the baby Jesus, who was birthed by an unwed teenage mother on the floor of a barn, and laid in a cattle feed trough for his first nap outside the womb, was called The Prince of Peace.
What will I know of peace, this month? There will be no peace in my schedule. None, certainly, in my budget. If I'm not careful, it will be absent from my marriage and among my children as well.
Sometimes, I think Jesus must wish we'd all quietly remember his birth sometime around February 8th, and let that be an end to it.
But cultural demands dictate that we celebrate it now. There is no getting away from it. And in the end, I have no moral prescription for readers. I can just say that I hope I'll do better this year. I long for the kind of Advent and Christmas that really focuses on the great hope the world was given, in the coming of Christ. The Messiah. The One who can actually save us from hopelessness.
It deserves a month, or 3 weeks, or a week, or even a day of my life to remember that this baby-in-the-feed-trough has saved me from the depression and despair I used to know; from my former pointlessness and powerlessness. He has shown me the pathway to joy, and has healed wounds and scars that no one else could even see in my depths. I hope I will remember to take time, this Advent, to anticipate His birth. To appreciate and savor the way my life would be different if He had never been born.
I hope the same for you, and wish you blessed Advent season.